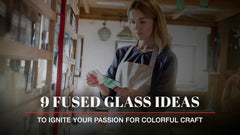 Few crafting hobbies energize the imagination quite like fusing glass.
Fused glass lets you create unique, visually striking pieces combining a tremendous array of colors, textures, and shapes. By assembling different pieces of glass, heating them to melt together in a suitable glass-fusing oven, then slowly cooling, you can make something that's functional, decorative, artistic—or all three at once.
As a result, glass fusion can be incredibly rewarding, but it takes some patience and experimentation to get into it.
If you're an aspiring glass fusing artist or hobbyist, get started by checking out these 9 fused glass ideas to ignite your passion for this colorful craft.

Image Source: Pinterest
1. Swizzle Sticks
Drink stirrers are a good fused glass starter project because they're small, simple, practical, and fun. Start with a few fusible glass strips of different colors.
You can choose to level up your challenge with a greater variety of pieces and colors. Or add a distinctive shape or color on the end to keep them organized.
Image Source: Pinterest
2. Coasters
Fused glass coasters offer fancier protection for your countertops than your typical bar coasters. Add a decorative touch to your table settings by experimenting with different shapes, colors, and textures to complement your various dishes and decor.
Just be sure to start with sturdier fusible glass pieces for durability. Your coasters need to be able to take some abuse from heavy, wet bottles and glasses.

Image Source: Pinterest
3. Serving Plates
This project is similar to coasters in complexity, but increases the size to create a wonderful conversation piece for your next dinner party.
It's another opportunity to experiment with different color combinations as well as textures (by incorporating additional heat-resistant materials, for example) to match your dining table or occasion.
Note that in this case, you'll need to be sure to choose food-safe glass that's been tested to meet FDA guidelines for lead and cadmium.

Image Source: Pinterest
4. Picture Frames
A homemade fused glass frame is a perfect showcase for a cherished family snapshot. For a personalized touch, you can incorporate elements like fused glass borders, textured accents, or painting to work with what else is on the shelf.
While you're at it, consider trying your hand at different layering techniques or adding materials to create depth and visual interest in your designs.

Image Source: Pinterest
5. Bowls
Here's where we start working with the more advanced glass fusing technique of slumping, which involves melting the glass over a mold to create a new shape.
You can find a huge variety of slumping molds online. Challenge yourself with different color combinations and new textures. Use your fused glass bowls for shelf display or to serve appetizers or desserts or showcase colorful fruits. But if the latter, be sure again to work with food-safe glass.
Image Source: Pinterest (left) (right)
6. Wall Art
One of the best things about fused glass crafts is that the possibilities are so wide open. Whatever your inspiration, it's a wonderful way to express your creativity, add a focal point to a living space, and make something you can display with pride.
Work with any kind of shapes, colors, and textures you like. Consider adding layers, paint finishes, or metal or other materials for visual depth and variety.
Image Source: Pinterest
7. Candle Holders
Add to the aesthetics and ambiance of any room with a fused glass candle holder. Try out different glass opacities or textures to create interesting reflective light patterns with a candle flame.
Depending on the size and complexity of the design, this project can be among the most challenging on our list. Ensuring the stability of the piece is important, particularly if you'll actually be lighting a candle in the holder.

Image Source: Pinterest
8. Pendants & Other Jewelry
Here's another accessible way to incorporate striking colors into memorable fused-glass pieces. Add to your look with a one-of-a-kind pendant, earring, or bracelet.
Fuse small pieces of glass with different colors, textures, and shapes. Or experiment with incorporating metal foils or wire for added interest. Add the glass creation to your favorite chain, hoop, or leather strap. How complex and creative you get is really up to you and your tastes!

Image Source: Pinterest
9. Garden Ornaments
It's time to have a little whimsical fun with gnome, animal, and bug shapes—anything that might liven up your patio or yard. Adding artistic accents to garden beds, enhancing outdoor spaces with colorful and light-catching glass.
To make fused glass garden ornaments, you just need to make sure you use glass suitable for exposure to the elements. You may want to incorporate features like metal stakes for installation, as well.
A Few Final Thoughts
Remember that fusing glass isn't a technique you'll master overnight. Give yourself the time, space, and freedom to learn and grow in this exciting craft.
You can find lots more inspiration and information online, including helpful glass fusing video tutorials at the Glass Campus, a wide variety of instructional videos from Bullseye Glass, one of the major suppliers of fusing glass, and other sources.
With all of these projects—as well as the many others you'll come up with—always start with safety in mind. Fusing involves fragile, potentially sharp materials as well as temperatures as high as 1500 F. Wear proper safety gear, and choose an oven that protects you from burns, such as Hot Shot glass ovens with Cool-Touch Technology.
Above all, enjoy the process as you explore the beauty of fused glass art!