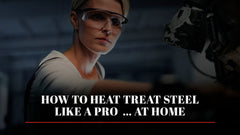 If you enjoy making things with metal, you're probably familiar with the process of heat treating steel. But have you ever considered doing it at home?
Sure, it takes some knowledge and up-front investment. But it's not as hard as you might think. So without further ado, let's get into the essential information you need to heat treat steel projects like a pro in the comfort of your own home workshop.
Reasons You Need to Heat Treat Steel
Heat treating can change your steel's physical, chemical, or mechanical properties of metal in various ways, including:
Hardening: Creating parts that resist wear in stressful applications.
Softening: Improving machinability and formability.
Strengthening: Making the metal less prone to cracking.
Increasing corrosion resistance: Reducing the risk of rust and other deterioration.
Which of these changes do you need? That all depends on the specs of your project. The type of steel, your manufacturing process, the requirements of the application, etc.
... And Why You'd Want to Heat Treat at Home
Doing your own steel heat treating comes with a learning curve and an equipment investment. But commercial steel heat treaters often have long lead times. And sending out for the work adds cost to every project.
So doing your own heat treating can save you time and money in the long run. Besides, as a hobbyist, you can take pride in doing more yourself. Plus, today's heat treating technology makes the process easier, which brings us to our next topic ...
What You Need to Heat Treat Steel at Home
In addition to some dedicated space in your shop for heat treating, you'll also need:
1. Heat Treat Furnace
As a hobbyist, you want equipment that will make this new-to-you task easier and safer.
Look for a dedicated heat treating oven, such as a Hot Shot Oven, that offers precise temperature control, a simple interface, and good safety features. Speaking of which ...
2. Safety Gear
By definition, heat treating steel involves high temperatures. Hot Shot Ovens' Cool-Touch technology can help keep you safe and reduce the clearances you need away from walls, etc. But proper protective gear—including gloves and safety glasses—is always a must, as is sufficient ventilation in your shop.
3. Hardness Tester
You should check hardness before and after your heat treatments. A Rockwell hardness tester is a specialized tool that measures hardness by determining the depth of indentation created by a penetrator with a known force.
Different recipes will call for additional tools and accessories, but these three items are a solid starting point.
Overviewing the Heat Treating Process
Every time you heat treat steel, the basic process is the same. But the essence remains the same: Heat a part or product at a specified rate up to a certain temperature. Hold at that temp. Then cool at a specified rate.
1. Heating
Heat the steel in your heat treat oven to the temperature prescribed for your heat treatment and steel type. That will depend on the type of heat treating you're doing, which we'll get to in a moment.
2. Holding
Once the steel has reached the target temperature, hold or "soak" it at that temperature for a specified time.
3. Quenching / Cooling
The critical step is where your specs can vary quite a bit. You'll cool the steel in one of the following ways:
Water: A fast-quenching medium generally suitable for low-alloy steels and carbon-based tool steels. However, it can also cause distortion, cracking, and even warping, especially for large or complex-shaped parts.
Brine: A sodium chloride (NaCl) solution for rapid quenching of high-carbon and high-alloy steels that require very fast cooling rates. It produces a very hard and strong microstructure with excellent wear resistance. But there's greater risk of distortion, cracking, and warping. Brine can also be hazardous and corrosive.
Oil: A slower quenching medium suitable for medium-carbon and high-carbon steels. Oil quenching produces a softer and more ductile microstructure with less cracking. But the cooling rate is slower.
Polymer: A bit slower medium than oil, suitable for some tool steels and high-alloy steels. It produces a more ductile microstructure.
Air: The simplest, slowest method, suitable for low-alloy steels and some tool steels. For other steels, it likely won't give you the properties you're looking for.
Your choice depends on the material being heat-treated, the desired properties, and the size and shape of the part. Consult the material specs, and be sure to discuss heat treating guidelines with your supplier.
Different Types of Steel Heat Treatments
With the basic heat treatment process in mind, let's take a closer look at the different ways you might want to heat treat your steel.
Annealing
Annealing softens steel to make it easier to machine and less likely to crack. You heat the metal to a specific temperature, and then allow it to cool slowly, often in the furnace.
Normalizing
Normalizing is similar to annealing. It's another way to make metal more machinable, but it's best suited to improving the grain size of ferrous (iron-containing) metals. Like annealing, you heat the steel to a specified temperature and hold. But this time you let it cool at a faster rate, in still air.
Hardening
Hardening process involves heating a metal to a high temperature, then rapidly cooling / quenching in oil, water or brine as dictated by your recipe.
Tempering
Tempering reduces internal stresses and brittleness in the steel that may have been caused by hardening. You reheat the material to a lower temperature, then quench in oil or water (depending on your steel).
Stress Relieving
Stress relieving is meant to improve the internal stability of steel after it's been put through the paces of welding or another manufacturing process. As with tempering, you heat the metal back up to a level below its critical temperature (although higher than in tempering) and hold it there for a time. Follow that up with cooling in ambient air.
A Look at a Few Steel Heat Treating Recipes
Different types of steel, part designs, and applications require different heat treating parameters. To give you an idea, we offer some example recipes below. These are intended only as a guideline. Your project may need higher or lower temperatures, longer or shorter soak times, a different quench medium, etc. Always consult a metals expert and/or your material supplier to determine the right recipes for your projects.
Annealing O1 Tool Steel
As detailed in our article on heat treating O1 tool steel:
Heat slowly to 1140°F.
Turn off your furnace and allow the steel to cool slowly (40°F per hour) inside until below 1000ºF—several hours or even overnight.
Remove the steel from the furnace and allow it to air cool gradually down to room temperature.
Hardening D2 Steel
As detailed in our article on how to heat treat D2:
Preheat. For complex tools, do this in two steps. Heat no faster than 400°F per hour up to 1200°F. Allow the workpiece to equalize. Then heat up to 1450°F. For basic tools, you can do this preheat all in one step up to 1450°F.
Raise your furnace temperature to 1800° - 1850°F. Hold the metal at that temperature until heated through.
Cool in a vacuum furnace if you have one. Or use an inert gas (argon) to displace oxygen in your kiln, to protect from scaling.
Once your piece has cooled to 150°F, move immediately to tempering.
Tempering 440C Stainless
As detailed in our article on heat treating 440C:
Heat the metal to 400 - 800°F. Don't go over 800°F at this step, as studies show a decrease in toughness and corrosion resistance caused by higher-temperature tempering.
Hold for at least two hours, plus 1 hour per inch of thickness over 2 inches.
To help improve dimensional stability, consider cryogenic treatment.
Allow to return to room temperature after refrigeration. Repeat tempering.
These snapshots should give you the idea: Every heat treating process is a bit different. There are lots of different types of steel. We offer guides to many of them, and we're adding more all the time.
Related Resources
Tips & Tricks for Success
Here are a few final thoughts to keep in mind as you work toward starting to heat treat steel at home.
Mind your steel. Steel comes in many different compositions, each of which offers different properties and responds differently to heat treatment.
Exercise patience. It takes time to change the chemical properties of steel. Don't try to cut corners on your recipe.
Protect your workpiece. Many types of steel are prone to scaling during heat treating. A good preventive measure is to use an inert gas such as argon (available in a convenient argon gas kit from Hot Shot) in your oven, which can provide an oxygen-free environment for heat treating.
Test and verify. Before and after heat treatment, run appropriate metallurgical tests like hardness and microstructure analysis.
Think safety. It bears repeating: handling hot metal is hazardous business. Wear your personal protective equipment. Work in a well-ventilated area. And use a well-insulated oven that may help reduce burn risks, like Hot Shot Ovens with Cool-Touch technology.
We hope this article gives you the solid foundation of knowledge you need to feel at home with heat treating at home. If you have any questions or concerns as you continue to develop these important skills, feel free to contact the Hot Shot team anytime!