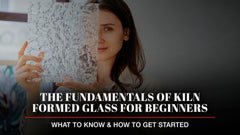 Creative. Colorful. Captivating. Kiln formed glass is one of the most exciting crafts you could ever take on.
Fusing art and science, kiln forming lets you shape glass into all kinds of intricate, beautiful designs.
Whether you're an aspiring artist, a seasoned crafter, or simply someone with a passion for the beauty of glass, discover what you need to know to get started with these fundamentals of kiln formed glass for beginners.
What Is Kiln Formed Glass?
Kiln-formed glass is a creative art that involves manipulating glass—often shaping it with a mold—by heating it inside a specialized oven called a kiln.
What It Isn't
It isn't glass blowing, another popular glass working craft you may be familiar with. That's a "hot glass" technique, where you shape glass while it's at 2000+ °F. high temperatures.
Then there's the "cold glass" art of stained glass, which involves little to no melting of glass. Instead, you piece together a stained glass creation by soldering metal pieces. Coldworking glass, such as polishing, etching, and engraving, are steps you can take after you finish working on your piece in the kiln.
Kiln forming is a "warm glass" technique in that you heat the glass up, but you don't have to work with it while it's at its hottest temperatures.
Photos Source: Etsy & Pinterest
Types of Kiln Forming
Anytime you heat up glass pieces in a kiln to alter their form, you've got kiln formed glass. And within this broad category, you can try three specific techniques:
Glass fusion – Melting and fusing multiple, multi-colored pieces of glass together. Use this technique to make a wide variety of colorful creations, from jewelry to picture frames to wall art and more.
Glass slumping – Heating glass enough so that it "slumps" over a mold and takes that shape. Use this technique to make plates, bowls, and other dimensional objects.
Glass casting – Melting and forming glass into a mold. Use this technique to make sculptures, vases, pendants and other jewelry, and more.
How to Kiln-Form Glass
The basic process of kiln forming glass is straightforward. You arrange your glass, heat it up in your kiln until it becomes malleable, and then let it cool to harden it again.
But, of course, there's plenty more to consider ...
Materials & Equipment
A quality kiln:

You want one that has solid safety features and easy-to-use temperature control. For example,

Hot Shot glass kilns

have

Cool-Touch technology

that prevents burns. Plus, precise temperature control and all-around ease of use help you get great results. Hot Shot kilns in a range of sizes are in stock and ready to ship.

Kiln accessories and supplies:

Molds are essential for slumping and casting techniques. Kiln shelves (for spacing, heat distribution, and easier cleanup), kiln paper (to protect the kiln shelf surface), and kiln wash (to keep glass from sticking to the shelf and your molds) are also useful.

Personal protective equipment:

Be sure to wear eye protection, thick clothing, and gloves whenever working with glass and using the kiln.

Glass:

Your choice of glass depends on your project. Look for glass labeled specifically for fusing, slumping, or casting. Generally speaking for kiln forming, you want glass in smaller pieces that aren't too thick; up to around 1/4 inch (6 mm) is common. In addition, if you're using different types of glass, make sure they're compatible to work together (more on that in the next section). If you're not sure, talk to an expert about the exact type that's best for your project.
A Note on Coefficient of Expansion (COE)
COE is an important term to learn and understand for glass selection. It refers to how much a glass will expand when heated and contract when cooled.
If you're using multiple types of glass, be sure they have the same COE, which will help prevent cracking and shattering during and after kiln forming. Your glass supplier will have this information.
Want to use found glass, such as broken up beer bottles, for kiln forming? That's where things get tricky regarding COE. Most glass beverage bottles will have a similar COE. But you should still verify compatibility. Use a glass identification kit, work with a glass testing laboratory, or simply do a small test project to start out.
Basic Steps of Kiln Forming
Kiln formed glass takes several key steps. Your parameters will vary depending on your project, materials, and chosen kiln-forming technique.
Here are some high-level guidelines, but you should always consult with an experienced glassworker to fine tune your process.
1. Preparing
Cut your glass pieces to your desired sizes.

Install a kiln shelf with protective kiln paper to prevent the glass from sticking.

Coat any molds you're using with a kiln wash.

Arrange your glass and mold (if applicable).
2. Preheating & Firing
Preheat your kiln to your target temperature, which may be anywhere from 1,300 °F to 2,000 °F depending on your project. To avoid thermal shock and ensure effective forming, experts recommend ramping up the temperature in stages:

Slowly at first—no more than 300°F per hour—up to about 1,000 °F.

Then faster, if desired, until around 1,300 °F.

Finally, at your slowest rate yet (max 200 °F / hour) as you near and reach your target temperature.

Soak at temperature for up to 1 hour per your chosen technique.
Cooling & Annealing
Don't cool your glass too quickly; that may weaken the glass. Instead,

anneal glass

by reducing the temperature in the kiln at a controlled rate, usually around 150°F per hour, down to about 900 °F.

Let it soak at that point for about an hour.

Then cool down the kiln slowly to about 300 °F.

Turn the kiln off and let your glass cool inside slowly to room temperature (~70 °F).
4. Finishing
Take your glass out of the kiln and extract it from your mold if necessary.

Grind, polish, or add surface treatments as desired.
Things to Keep in Mind
Making kiln formed glass takes some experimentation and practice. Here are a few pointers.
Heat and cool evenly.

Gradual ramp-up and cool-down are key to solid, successful results. Be sure to use a

quality glass kiln with precise temperature control

.

Enjoy the journey.

Continue to develop your skills with classes and workshops, books, or online tutorials and forums.

Declare your independence.

Many beginners rely on glass working studios to access kilns for their projects. But the more you get into this exciting craft, the more cost-effective and quick it'll be to get your own kiln.

Stay safe.

It never hurts to remind you that glass shatters and cuts, and high temperatures burn. Be careful, go slowly, and always wear protective gear.
Photos Source: Etsy & Pinterest
Ideas for Kiln-Formed Glass Creations
Kiln forming offers a wide-open world of creative possibilities for your home, office, wardrobe, garden, and more! Here are just a few ideas to get you started:
Funky Bracelets
Spice up a look with jewelry nobody else can match.
Keepsake Pendants
Wear your creations, and you'll be unforgettable.
One-of-a-Kind Picture Frames
Give your favorite family photos a deserving spotlight.
Fun Coasters
Liven up the party while protecting your furniture surfaces.
Fruit Bowls
Highlight your healthy treats in an eye-catching container.
Flower Vases
Show off the latest blooms with style.
Colorful Sculptures
Enhance an outdoor landscape or indoor shelf with intriguing shapes.
Whimsical Paperweights
Turn an everyday desk item into a great conversation piece.
For even more inspiration, try these fused glass project ideas.
Fire up Your Kiln–and Get Fired up to Create!
Kiln forming is a fun and fascinating craft that takes practice and patience to perfect.
But along the way, we bet you'll get more motivated every day as you keep growing your skills in kiln formed glass!